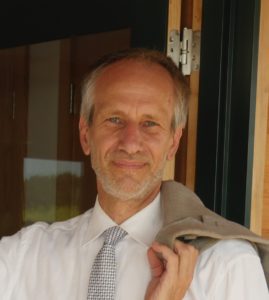 Jonathan Lipman, AIA, is the United States' preeminent practitioner of Vedic – or Vastu – architecture, and he has had a distinguished career spanning architectural practice, historic preservation, museum curating, and academia. He is also a New York Times-praised author.
His architectural practice has been devoted exclusively to the practice of Maharishi Vastu® architecture for the past eighteen years, and he has accumulated more experience at reviving and applying its ancient principles than has any other North American architect.
Jon has guest lectured on architecture at many universities including Harvard, Yale, Columbia, Stanford, and Cornell; the Museum of Modern Art in New York City, the National Building Museum in Washington, DC, and the Renwick Gallery and the Cooper-Hewitt Gallery at the Smithsonian; annual conferences of the Association for Preservation Technology International, the American Solar Energy Society, the Frank Lloyd Wright Building Conservancy, and the National Association of Home Builders; and popular venues for the public including the Yoga Show, Whole Life Expo, and the Smithsonian Institution's Resident Associates Program. In 2006, he was invited to address to the annual convention of the American Institute of Architects, and he has delivered lectures in architectural education programs funded by the National Endowment for the Arts.
View Jon's lecture on Vedic architecture at Stanford University
His book, Frank Lloyd Wright and the Johnson Wax Buildings (Rizzoli International Publications, 1986), is one of the most highly respected studies of Wright's work. It garnered praise by the New York Times, and, after staying in print for a decade with its original publisher, was reprinted by Dover Publications in 2003. Lipman has written highly praised book-length studies of two other Wright buildings as guides for their owning institutions. He is considered one of the world's primary authorities on Wright's work of the 1930s.
Jon has curated architecture exhibits for the Renwick Gallery of the Smithsonian Institution; the National Museum of Modern Art in Kyoto, Japan; Cornell University; and the Milwaukee Art Museum. He has been a guest curator at the Museum of Modern Art, New York City.
Watch Jon give Oprah a tour of a Maharishi Vastu home.
His prior practice in historic preservation included work on some of the United States' most distinguished landmarks of the 20th century, and he has served five times as the consulting preservation architect for the projects for the National Trust for Historic Preservation, the nation's preeminent institution in the field. He is a past president of the Frank Lloyd Wright Building Conservancy and served for six years on the State of Iowa National Register of Historic Places Nominations Review Committee.
His architectural work has won state awards and has been published in a number of publications, including Architectural Record. He has been listed many times in both Who's Who in the United States and Who's Who in the World and was educated at Cornell University.