(All images will enlarge when clicked.)
Upon returning to Rome at the end of the afternoon I separated from R & E and walked to Santa Maria Maggiore, a Romanesque basilica that was later remodeled in the high Renaissance manner.
It is one of the Pope's three churches in the region (St. Peters being one of the other two). It is eerie to see a basilica space with detailing of centuries later.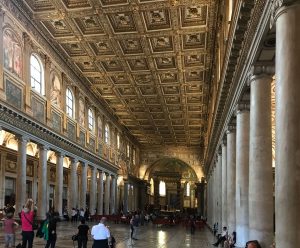 Noteworthy is the crypt into which one may descend that contains two pieces of wood brought from Bethlehem in the Eighth Century, which are understood to be from the baby Jesus's crib. They are presented in an astoundingly rich setting above which floats a sculpture of the babe, one arm up in greeting to us. All is gold. I meditated in the crypt, 12 feet away, and felt deep silence there.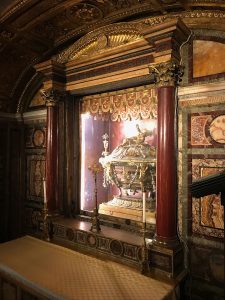 Look closely above at the above sculpture to find the two venerated pieces of wood, installed horizontally. One looks like a 2×4 and the other like a 2×6.
Above the crypt on the main floor is a baldacchino that clearly predates Bernini's in St. Peter's. The columns are wrapped in sculpted vines, but the columns themselves are simple cylinders. It is a good starting point from which to appreciate the innovations of Bernini's baldacchino.